Dr. Shahriyar Yahyavi was born in 1970 in Tehran. He entered Iran's university of medical science and graduated as an MD and ranked first among his fellow classmates. Then he served the military service in the hospital of police force for two years and just after that he managed to continue his studies in Otolaryngology. He passed his resident terms in Amir-Alam hospital and in 2002 he managed to get his degree as an otolaryngologist and ranked first at his graduation. Next to that he was an associate professor and teaching board member at Hazrate-e-Rasool Akram and Firouzgar educational Hospital. Form 2002 till today he has been active in facial and nose cosmetic surgeries, nose and sinus endoscopic surgeries, breathing disorders, head and neck tumors.
He has also been a member to the research center at Hazrat-e-Akram hospital that resulted in several publications in various fields. The outcome of all these efforts in the field if education is that by now 40 otolaryngologists have been entered the society by the instructions of Dr. Shahriyar Yahyavi that are active in different parts of Iran. By this time Dr. Yahyavi is active in Kasra, Erfan, Marvasti and Yas-e-Sepid hospitals in Tehran
17000+ Successful Surgeries
Dr. Shahriyar Yahyavi has more than 30 international patients every month from several countries to do Rhinoplasty (Nose Surgery) and other facial plastic surgeries.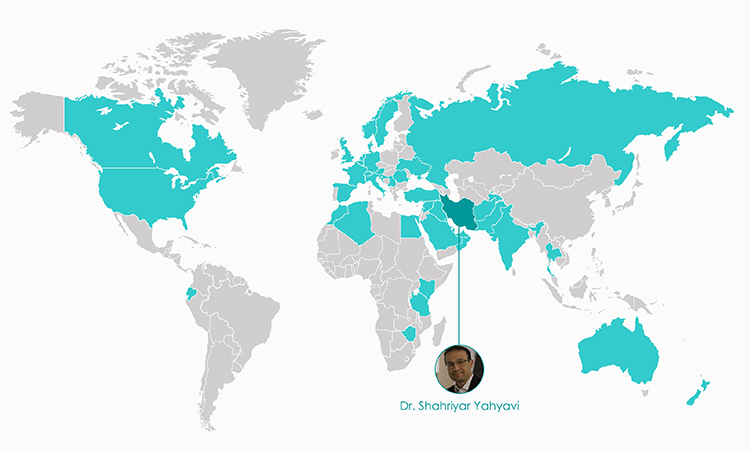 International patients are coming from: Germany / Sweden / Norway / France / Spain / UK / Netherlands / Austria / Switzerland / Romania / Denmark / Belgium / Croatia / Serbia / Ukraine / Italy / Russia / Kuwait / Bahrain / Oman / Qatar / Iraq / Syria / UAE / Saudi Arabia / Afghanistan / Pakistan / Turkey / Tajikistan / India / Thailand / Lebanon / Algeria / Morocco / Tanzania / Kenya / Egypt / USA / Canada / Australia / New Zealand / Zimbabwe / Ecuador
Which surgeries does Dr. Shahriyar Yahyavi perform?
Rhinoplasty (Nose Surgery)
Blepharoplasty (Eyelid Surgery)
Otoplasty (Ear Surgery)
Cheek Prosthesis
Chin Prosthesis
Facial Fat Injection
Fillers and Botox
Buccal Fat Pad Removal
Face Lift / Lip Lift
Dr. Shahriyar Yahyavi's Honors Gallery
Quick Summary
Dr. Shahriyar Yahyavi
Facial Plastic Surgeon
Dr. Shahriyar Yahyavi is an active Surgeon from 2002 in the fields of Rhinoplasty and facial plastic surgeries.
Shahriyar.Yahyavi@gmail.com